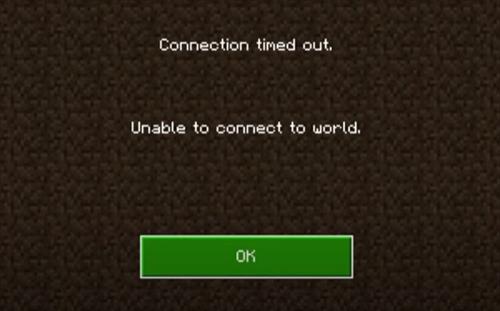 If you are playing Minecraft and trying to connect to a Server or World, and it gives you the error, " Connection Timed Out, Unable To Connect to World" there are a few fixes to get you playing again.
There is numerous online posts on Reddit, Forums, and YouTube about this error and how to fix it.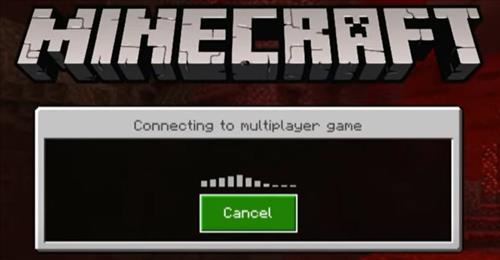 Below are the most common fixes we have found.
The fixes should work with almost any device and operating system, including Windows 10, Xbox, PlayStation, and Nintendo Switch.
If you have a fix, not on the list, let us know in the comments below.
4 Fixes for Error Unable to Connect to World Minecraft
Sign Out and Back Into Your Microsoft Account

The most common fix is to sign out and back into your Microsoft Account.

Be sure to select Save to Microsoft Account as Leave on Device often causes the error to return.

How To Sign Out and Back In to World Minecraft Microsoft Account
Go to Settings–> Profile–> Sign out of your Microsoft Account

Click Sign Out

Click Sign In for Free!

Click Save to Microsoft Account

Select your Account

It should now Load and Connect
Load a World Save and Quit then Join Friends Game
For this fix, you first load a world, then save and quit and then join a friend's game.
Doing this series of steps often will load the game and connect.
How To Load a World Save and Quit and Join Friends Game
Go to the Worlds section

Load a World and let it Generate

Let it load up as much as possible

Press the options button then Save and Quit

Wait for the main screen to come up and say Done!

Go to the Friends Section and Join a Friends Game

It should now load up and start working
Change the Device
If the above common fixes do not work, your device may be having a problem.
The quickest way to fix it is to change the device you are using including operating system such as Windows 10, Xbox, PS4/PS5, or the Switch.
Troubleshooting the device often starts with looking for updates and being sure up-to-date Drivers/Firmware are loaded.
Create a New Microsoft Account
Sometimes creating a new Microsoft Account also works.
The old account should not be gone only temporarily not working.
This could be an issue with the Server your account is being held on having a problem and start working again at a later time.
 
Summary
If you get an "Unable To Connect to World Minecraft" error it can no doubt be very frustrating.
Signing out of your Microsoft account and back in again is the most common solution.
Choose to Save to Microsoft Account and not Leave on on Device as the latter often causing the connection problem.
The next common fix is to load a world, save and quit, and then join a friends game.
For some reason, this series of steps often solves the issue.
Changing your device can also be done if the device is having a problem.
And the last fix is creating a new Microsoft account.
While not ideal, your old account may have a temporary account problem and start working again later.
Do you have a good fix for the error "Unable To Connect to World Minecraft"? Let us know your thoughts below.