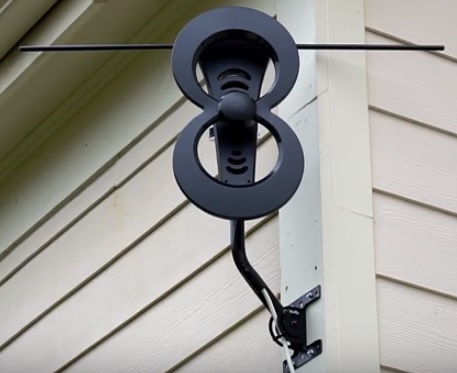 There are many TV channels that are broadcast for free over the air, such as FOX, ABC, CBS, along with local channels, can all be watched for free with the right HDTV antenna.
How close you are located to the TV transmission towers will depend how many channels you can receive.
If you live in a city, the transmission towers are likely close, and a basic TV antenna can be used.
If you live outside a city, a long range TV antenna will likely be the best option.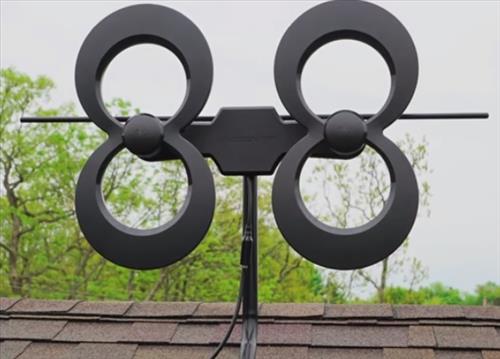 Even in many big cities, a long-range antenna can often bring in many more channels.
In most major cities with the right antenna getting 30-50 channels or more is easily done.
So what is the best long-range antenna to use?
There are many good units available, with some of our favorite picks below.
As always, be sure to read reviews on Amazon, forums, or elsewhere to be sure a unit is a right pick for you.
*This post contains affiliate links.
Our Picks for Best Long Range HDTV Antenna
RCA Outdoor Yagi

TV Antenna – RCA Outdoor Yagi Satellite HD Antenna with Over 70 Mile Range – Attic or Roof Mount TV Antenna, Long Range Digital OTA Antenna for Clear Reception, 4K 1080P

The RCA Yagi has been available for a while and is a very good long range antenna.

Yagi antennas need to be pointed directly at the source for the best reception.

This is done by knowing where the towers are and pointing the antenna at them or turning the antenna until the best reception is on the TV and bolting it into place.

The kit comes with some assembly; mainly, the aluminum bars need to be attached. It also has a mounting bracket to mount it to a pole or wall.

The RCA Yagi is a good unit that is low-cost and works very well.
 

Clearstream 2Max

Antennas Direct Clearstream 2Max TV Antenna, 60+ Mile Range, UHF/Vhf, Multi-Directional, Indoor/Outdoor, Base Stand, Mast W/Pivoting Base/Hardware/Adjustable Clamp/Sealing Pads, 4K, Black – C2MVJ-5

The Clearstream 2Max is a TV antenna built to work outside or inside, such as an attic, and pick up TV signals from any direction.

It is a good TV antenna that can pick up the best TV signals possible.

Since it can also pick up UHF and VHF signals it boost the TV channels available.

The unit does cost more compared to many other antennas and is for those serious about getting the most channels possible with the best reception.
 

Pingbingding HDTV Antenna Amplified

pingbingding PBD WA-2608 Digital Amplified Outdoor HD TV Antenna with Mounting Pole & 40 ft RG6 Coax Cable 150 Miles Range Wireless Remote Rotation

This HDTV antenna from Pingbingding is also a Yagi unit but has a motor to turn it, which helps hone in on a station.

Most TV towers are clustered together so multiple stations can be received from one spot. Sometimes they can be apart, which requires the antenna to turn to get the best reception.

The Pingbingding is one such unit that rotates in a 360-degree turn.

A small remote control and box come with the kit to control the motor.
 

GE Pro

GE Pro Outdoor TV Antenna, Long Range Antenna, 4K 1080P VHF UHF Digital HDTV Antenna, J Mount Included, Weather Resistant, Indoor Attic Mountable, 29884

GE Pro makes this unit which also works well honing in on a TV signal.

It can be mounted in the attic or outdoors, with outdoor usually the best option.

There is some assembly required which is easy enough for a handy person.

The GE Pro is a great unit that works in a variety of scenarios.
Types of Long Range TV Antennas
Antennas come mainly in two styles Omni Directional and Directional.
Both have their positives and negatives and need to match the location.
Directional TV Antennas
Good long range reception
Must be pointed directly at the source
Omni Directional units are very good long range TV antennas but must be pointed directly at the TV transmission towers.
This is often done by using Google to find the tower location and the antenna pointed at them.
Another common method is to hook it up and slowly turn the antenna until the best reception is had and bolted into place.
Omni Directional when setup correctly are the best antennas for long range.
Omni Directional TV Antennas
Good only at close range
Can receive a signal from any direction
Omni Directional can receive a signal from any direction, which makes them good units for RV, trailers, camper, or even home antennas.
They don't work as well as Directional units for range but are good close up able to pick up a broadcast without having to tune the antenna in.
There is always some moving of any type of antenna to get a good signal, but Omni Directional requires much less tuning.
Summary
There are many good long-range TV antennas that can pick up many channels.
Often 50-100 TV channels can be picked up over the air.
There will be some assembly and mounting of the antenna, which is not difficult, especially for a handy type of person.
TV signal boosters are often used with a TV antenna to get the best reception possible.