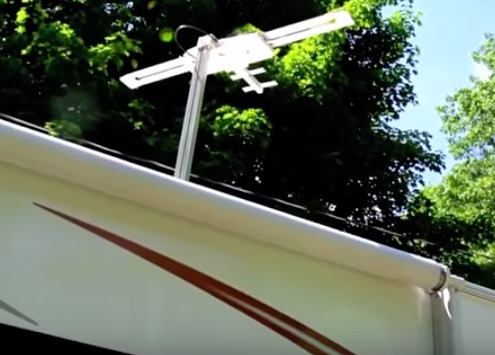 Having a good TV antenna when traveling in an RV, trailer, or camper is ideal for free movies, TV shows, and news.
All the big networks, such as ABC, NBC, FOX, PBS, and more, broadcast free signals over the air that anyone can pick up and watch.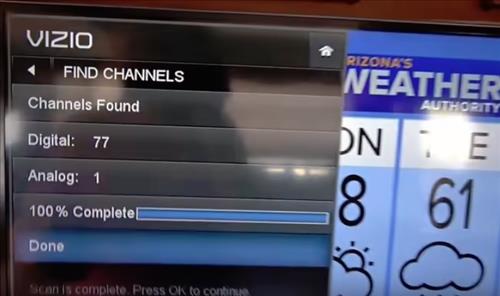 The TV shows and movies played are not as good as Cable/Satellite or online services, but it can be surprising what is transmitted for free.
It is also a good option for local news, which can be invaluable in some scenarios.
OTA (Over-The-Air) antenna TV is a great free resource that anyone can use for entertainment with a few budget items.
The main item needed is a TV antenna to pick up OTA stations. Other items, such as a signal booster, can also greatly help receive a signal.
What Makes a Good RV, Trailer, or Camper Antenna?
Omni-Directional TV antennas make for the best units to pick up a broadcast when moving.
Directional TV antennas are good when parked and better at range.
Omni Directional antennas can pick up a signal from any direction, which makes them good when moving.
This means they don't need as much adjusting as a Directional antenna would.
Omni Directional antennas are not as good at picking up from far away as a Directional unit but will still boost a signal.
Directional antennas are mainly used when they can be pointed at broadcast towers, dialed in, and have good range.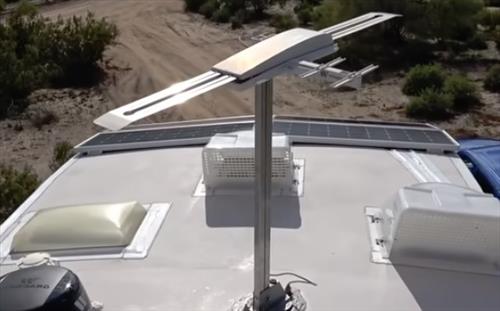 Directional antennas focus the signal for maximum results, but the vehicle can not move.
Since Directional antennas need to be dialed in, they usually work best on a fixed building.
Omni-Directional antennas can receive a signal from any direction, so they don't need a set location and are good for moving vehicles.
They are not the best for long range but used in combination with a booster usually work well receiving over-the-air TV broadcasts.
There are Directional antennas built for RVs that will usually have a motor or hand crank to dial in a signal after parking.
Below are our favorite picks for the best RV, trailer, or camper antennas.
As always, be sure to read reviews on Amazon, forums, or elsewhere to be sure a unit is a right pick for you.
*This post contains affiliate links.
Our Picks for Best TV Antenna for an RV, Trailer, or Camper
Indoor Window Antenna

TV Antenna Indoor, Digital Amplified Indoor HDTV Antenna, 1080p VHF UHF Television

Flat indoor antennas are low-cost units that, while not the best at receiving signals, work well enough and are good for those on a budget.

Since they are inside, usually next to a TV, they can quickly be moved about to get a good signal.

This unit is one such flat indoor unit that also includes a signal booster to greatly improve a broadcast.

It is a low-cost unit good for anyone looking to improve a signal while on a budget.
 

Winegard RVW-395 Sensar IV

Winegard RVW-395 Sensar IV White DTV/HD TV Antenna

Winegard makes many good TV antennas, including this unit specifically built for RVs.

It can receive all the VHF and UHF digital HD signals broadcast in the USA.

A hand crank is used to raise, lower, and rotate the antenna making it ideal for traveling and honing in on a TV signal.

It is a directional unit, so the hand crank will need to be turned to get the best signal.

This is good for when an RV is parked since it can dial in on a signal getting the best reception possible.

The Winegard Sensar IV is a great unit that can be lowered when traveling and picks up TV broadcasts very well.
 

Magnadyne RVTV-W2

Magnadyne RVTV-W2 Omni-Directional Amplified TV/AM/FM Antenna and Distribution Plate White

The Magnadyne RVTV-W2 is a very good Omni-Directional that is mounted outside on the roof of an RV, trailer, or camper.

Its Omni-Directional design means it can pick up a signal from any direction, which is ideal when traveling.

When combined with a signal booster, it works well but is not as good with range if far for the TV towers.
 

Winegard RZ-6035 Rayzar z1

Winegard RZ-6035 Rayzar z1 RV TV Antenna (HD, Digital, 4K Ready, ATSC 3.0 Ready) – Black

The Winegard Rayzar z1 is built specifically for an RV.

It has an internal handle to rotate the unit and get the best TV reception.

The unit comes with a built in pre-amplifier to help boost a signal.
How to Mount a TV Antenna on an RV or Trailer
How an antenna is Mounted will vary and depend on the type of unit bought.
Outside units will need to be bolted to the roof and sealed so as not to leak.
Inside units are the easiest to set up since they can hang on an inside wall or window.
While inside units are easy to set up, most will want a better range than an outdoor unit can give.
All the kits will come with directions for the installation that will be unique to each unit.
 
Summary
Using a TV antenna on an Antenna for an RV, trailer, or camper is easy to do, which allows for receiving free over-the-air TV channels.
There are many units available, with those above simply some of our favorite options.
After installing an antenna, TV channels will need to be scanned for from the TV menu system.
Scanning for new stations will need to be done any time a move to a new city is made.
Using a TV menu system to scan for stations is usually quick and easy but does depend on the TV.
Low-cost dedicated OTA TV Tuner Boxes can also be used.
TV signal Boosters and amplifiers are usually installed with an antenna which can also improve a signal.
Do you have a favorite Recreational vehicle antenna? Let us know in the comments below.