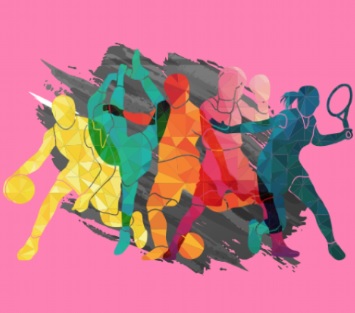 Kodi has many plugins and addons for movies and TV shows as well as sports addons.
Sports addons often don't work as well as many other addons since the content is not recorded and usually live.
Live feeds for Kodi can be a hit-or-miss depending on how well maintained the addon is.
One day an addon will be working great and the next day is down.
With that said they are improving all the time which is good news for sports fans.
Last Month Best Sports Addon Poll Results.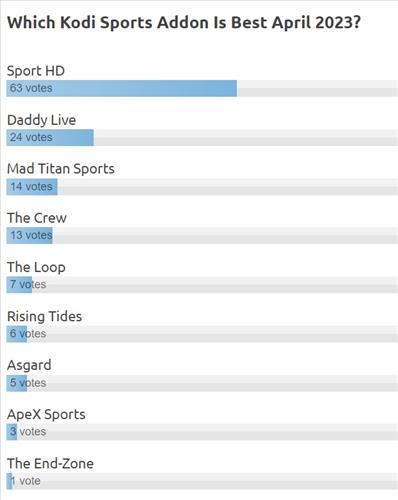 Below are the best options currently available. If you find one that works well for you please share it in the comment section below.
*WirelesSHack.org has No affiliation with Kodi, any Addons, Repos, or Builds. WirelesSHack.org is a news and informational site which does not support or condone copyright infringement. Kodi should only be used with content that is bought and owned personally or is in the public domain.
This page is regularly updated regularly to reflect changes and show the top current best working Kodi Sports addons with both Kodi 19 Matrix and the new Kodi 20 Nexus.
Best Kodi Sports Addons May 2023 Quick Overview
Best Sports Addons Poll May 2023
Which Kodi Sports Addon Is Best May 2023?
Best Sports Addons for Kodi May 2023 with Details
Sport HD

Sport HD is a Kodi sports addon located in the Bugatsinho Repository.

The main menu has Live Events, Sports, Best Leagues, Settings and more.

It pulls in feeds from SportHD and other websites and displays them in a long list to choose from.

A green dot is next to the games available and will give several links to choose from.

Daddy Live

Daddy Live is a Kodi sports addon located in the Crew Repository.

It has section for Live Sports, Live TV, and more.

Mad Titan Sports


How To Install Mad Titan Sports

Mad Titan Sports is a Kodi sports add-on located in Magnetic repository.

It has many sections including NBA, MLB, NFL, NHL, NCAAF, Wrestling Events, and more.

The Crew

The Crew is mainly known for Movie and TV show links but also has sports and IPTV section.

Sections include IPTV, NFL, NHL, NBA, MLB, NCAA Football, NCAA Basketball, UFC / MMA, WWE, Boxing, FIFA, Tennis, Moto-GP, Formula 1, Cricket, NASCAR, Misc Sports, Sports Replays and more.

The Loop

The Loop is a Kodi sports add-on located in the Loop repository that works with both Kodi 19 Matrix and 20 Nexus.

Sections include Authorize Resolve URL, Open Resolve URL Settings, Autozone, 24/7, Copa America Zone, Euro 2020 Zone, Fan Zone, Fight Zone, MLB, NBA, NHL, Soap Zone, and more.

Rising Tides

Rising Tides is a live sports and IPTV/PPV add-on for Kodi that works with Kodi 19 Matrix and 20 Nexus.

It has sections for Football Live, Live PPV Events, Sports Events, and more.

The links start to work five minutes before a game starts.

Asgard

Asgard is a Kodi all-in-one (AIO) add-on that has many sections and categories.

One section is the Asgard sports section which has Live Football, Baseball, Live Events, Formula 1, Wrestling, Basketball, Boxing, UFC and MMA Replays, and more.

TV One

TV One is a Kodi live TV add-on with many categories and sections.

Sections include Documentary, Entertainment, Food, Kids, Movies, Music, News, Sports, and USA Ch.

ApeX

ApeX Sports is Kodi sports and live TV addon from Arxtic-ape Repository.

It has sections for Live Sports, Live TV, Replays & Highlights, and Tools.

Centry Sports

Centry Sports is a Kodi sports and Live TV addon located in the Centry Repository.

Sub sections include Daddy Live, USTVGO, Live Football, Soccer Streams, NBA and NHL.

Purely Wrestling


How To Install Purely Wrestling

Purely Wrestling is a Kodi add-on all about wrestling located in several repositories.

Sections include Live, Shows, Pay Per View, Archives, Documentaries, Network Collections, Royal Rumble, Summer Slam, Wrestle-Mania, Interviews, Classics, AEW, Impact, NJPW, MLW, RPW, ROH, Lucha Underground, and much more.

Fights On Demand (FOD)


How To Install Fights On Demand (FOD)

Fights On Demand (FOD) is a new Kodi sports addon all about fighting, boxing, and MMA.

Sections include the latest UFC MMA /Replays, Non-Debrid UFC replays, MMA replays, UFC PPV, UFC Fight Nights, and much more.

Fights On Demand (FOD) add-on has both free and Real Debrid links. If you do not have a Real Debrid account, be sure to use the Non-Debrid sections.

Torque Lite

Torque Lite is a sports add-on located in the Narcacist Repository that is all about racing.

Sections include Live Zone, Super Cars, Super Bikes, Car Shows, and Race Archives.

The End-Zone

The End-Zone is a Kodi sports add-on that was updated to work with Kodi 19 Matrix and 20 Nexus.

The main menu has sections for Nascar, MMA/Boxing, NFL, NBA, NCAAF, Wrestling, NHL, MLB, and more.
Summary
If you are a sports fan watching live TV channels with Kodi can be hit or miss.
Any free live Kodi add-on is not very reliable and can give an error at any time.
This is true with almost any third-party addons with sports content and depends on how well the admin manages the plugin.
The official Kodi repository does not currently have any good sports addons, with third-party ones the best solution.
The device used will not have much impact as long as it works with other streaming plugins.
Devices include Android TV boxes, smartphones, Fire TV sticks, and Windows users.
If you are wondering if the sports addons are safe to use, there can, of course, be no guarantees, but the ones listed here do not seem to be an issue as far as viruses.
Many users will use a Kodi VPN for security and to stay anonymous.
The repository URL is needed to install any plugin with links to full instructions for each repository above.
Kodi media center is ever-evolving and becoming better every day.
One of the things that makes Kodi such a valuable media center is not only because it is free but the add-ons that can be installed.
When it comes to add-ons it is usually never a good idea to rely solely on one.
Add-ons can go down for a variety of reasons, from the administrator not maintaining it to simple changes that are too drastic to fix.
Kodi has come a long way in recent years and steadily only gets better. As of right now, relying only on Kodi for your favorite sports may be a challenge and a bit of a hit-and-miss.
If you have a favorite sports addon that you know works? Let us know below in the comments.